Asia Foundry Association participated in the 74th World Foundry Congress and Exhibition
The 74th World Foundry Congress, held at the BEXCO Convention Center in Busan, Korea, concluded on October 19th. The World Foundry Congress is held every two years and is organized by the World Foundry Organization (WFO) and Korea Foundry Society with the theme "Cast The Future". The event was last for five days, including theme conference, exhibition, technical reports, poster speech and factory visit.
A total of 244 papers were submitted from 28 countries and regions, and 235 papers were selected from 28 countries and regions, including 59 guest speakers, 155 oral presentations and 61 poster presentations. A total of 439 delegates (both online and offline) from 30 countries and regions attended the conference.
For a long time, AFA and Korea Foundry Society had worked closly for the event, and as the secretariat of the Asian Foundry Association, we united the presidium members, took advantage of the congress held in Asia region, we specially planned "Asia Foundry Report" session.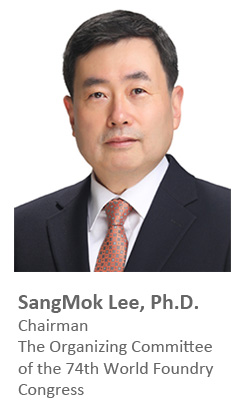 Due to the outbreak of the pandemic, the congress was finally postponed for two years. But as the chairman of the Organising Committee -- Korea Institute of Industrial Technology Dr. SangMok Lee said in his speech, "No matter how serious the pandemic is, we are clearly aware that foundrymen will eventually overcome such difficulties to serve the supply chain for the entire manufacturing stream line as usual, because it's our noble job and our commitment!"
The original theme of the session was changed to "COVID Foundry Report," but it still became the "focus" of the congress. Thomas GAO Wei, Executive Vice President of China Foundry Association & Secretary General of AFA; Dr. Jose Javier Gonzalez, Secretary General of World Foundry Organization; DongEung Kim Ph.D. from Korea Institute of Industrial Technology; Dr. Inż.katarzyna Liszka, Secretary general of Polish Foundry Association, And Hiroshi NISHIHARA, Japan Foundry Association was invited to give a report on the session. Meanwhile, at the call of the AFA, members such as, Deputy Secretary General of Federation of Malaysian Foundry & Engineering Industries Associations (FOMFEIA) & Deputy Secretary General of AFA Lai Weng Keong; Secretary General of Indonesian Foundry Industry Association Ramadhan Rudy; Pakistan Foundry Association Pervez Mugha; Vice President Tomio Okamura, Group leader of Technology and Environment Ministry Akira Yoshizawa of Japan Foundry Association; President of The Insitute of India Foundrymen Vineet jain; President Crystal Leung, Executive Vice President Jim Liu , Director Lenz Chan of Hong Kong Foundry Association and many other representatives watched the meeting online.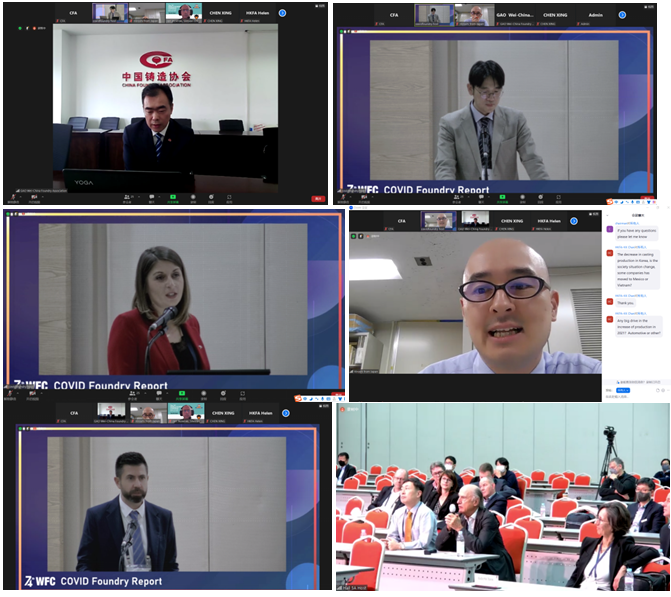 A total of 67 exhibitors participated the exhibition. China Foundry Association organized Hebei Shenghuo New Material Technology Co., LTD., Xiangyang Juli New Material Technology Co., LTD., Shaanxi Diesel Heavy Industry Co., LTD., Tianjin Muzi Carbon International Trade Co., LTD., Suzhou Microcrystal Automation Co., LTD., and other enterprises to participate in the exhibition.